BES / BRODIX 15 DEG GEN 2
BRODIX 15 DEG SBC HEADS FINISHED WITH BES CUSTOM PORT WORK. FLOWING 420 CFM THROUGH THE INTAKE PORTS, AND 300 CFM THROUGH THE EXHAUST. THESE HEADS ARE SUITABLE FOR A WIDE VARIETY OF APPLICATIONS.
CYLINDER HEADS COME STANDARD WITH 2.200 DIA. INTAKE VALVES AND 1.600 DIA. EXHAUST VALVES AND 53 CC CHAMBERS.
AVAILABLE WITH WATER JACKETS, OR HIPPED SOLID CASTINGS.
CALL FOR PRICING-ASK FOR PRESTON.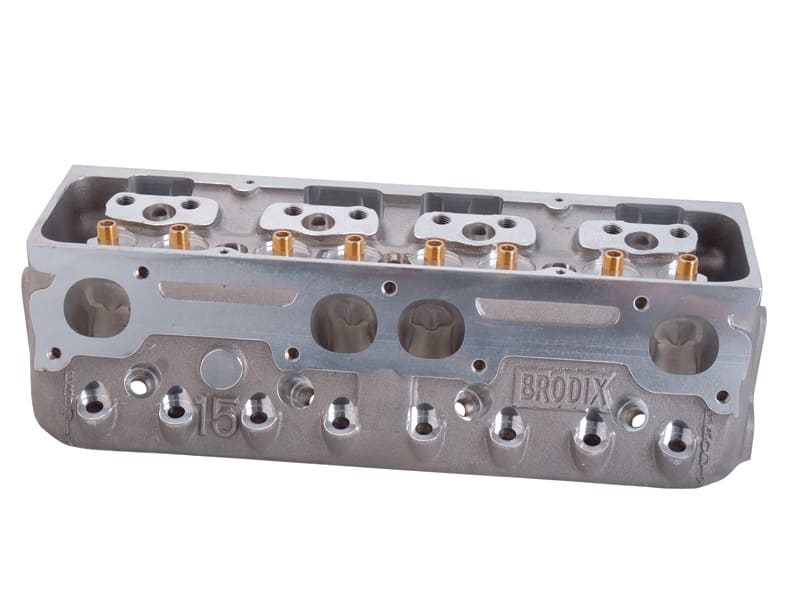 BES / BRODIX 15 DEG SBC - Flow Numbers
Intake
Exhaust

.100
71
42
.200
135
106
.300
210
145
.400
277
189
.500
341
227
.550
358
249
.600
375
272
.650
389
280
.700
404
288
.750
409
292
.800
415
297
.850
416
300
.900
417
302
.950
419
304
1.000
421
307
Intake Valve Dia.
2.200
Exhaust Valve Dia.
1.600
Intake Port Volume
315CC
Exhaust
104CC
Combustion Chamber CC
53cc chamber