About BES Racing Engines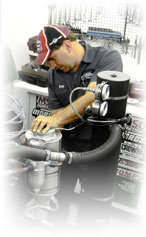 I was a mechanic and ran a machine shop for 2 years before starting Bischoff Engine Service in 1985. Back then, the bulk of the work was stock rebuilds as well as general repairs, which at that time included transmission work. Believe it or not, I learned most of what I know about performance by building stock motors. Providing a warranty meant learning how to make an engine work right the first time as well as being durable... and run for tens of thousands of miles. The parts had to be right or the engine would be back, so my "stock motor" experience proved to be a solid foundation for building high performance engines.
Over the years, I turned BES into a totally self-sufficient shop, providing virtually all Machine Shop services and delivering short and long blocks for street or strip. And as time went on, we got more into racing engines until it became our main thrust. In 1993, I got into racing personally in a 4-wheel-drive sand dragster and my on-the-track experience became an instant advantage for BES customers.
Four years later in 1997, the Dyno was installed at BES's compound in West Harrison as I left the sand to get involved in NMCA Drag Racing. At the shop, newer and better equipment was acquired and installed as the BES team worked hard to forge a reputation for building top-notch high performance engines.
Today, as always, customers are the key to BES's success. Our engines power a whole lot of race cars, trucks, pulling tractors, and boats to the Winner's Circle. With our success came growth. To maintain our success and to be better suited to help our customers BES moved in 2007 to a new 12,000 square foot building, in St. Leon, Indiana (10 minutes from West Harrison) and we now have 13 employees. BES has also added new equipment, including our Rottler P-69 CNC mill (check out our Machine Shop page) for our cylinder head program, to our machine shop to maintain and improve the level of excellence we provide our customers. Please come check it out. We hope to see you there.


Tony Bischoff